Reindeer Slime
We have done a few snowman and Rudolph crafts for Christmas before, but this is our first Grinch craft. We can't help but smile at that Grinch face. You'll definitely warm someone's heart with these!
We made Halloween Slime Jars and they have been such a popular craft we had to make some for Christmas too! And the best part about this activity is it's easy! It uses our 3 ingredient slime recipe.  No more slime fails with this one!
Now meet our 3 Christmas Slime Jars that we'll walk you through how to make.
First is our Rudolph slime jar – that bright red nose will surely brighten someone's day! And brown slime? Doesn't sound appealing but kids will love playing with it!
Next is our snowman slime jar – this one is our favorite (or maybe tied with Rudolph we can't decide!). The face reminds us of this adorable marshmallow snowman ornament. What a cute snowman! And the best part about this slime is it's white – no dying or special colored glue required to make this one!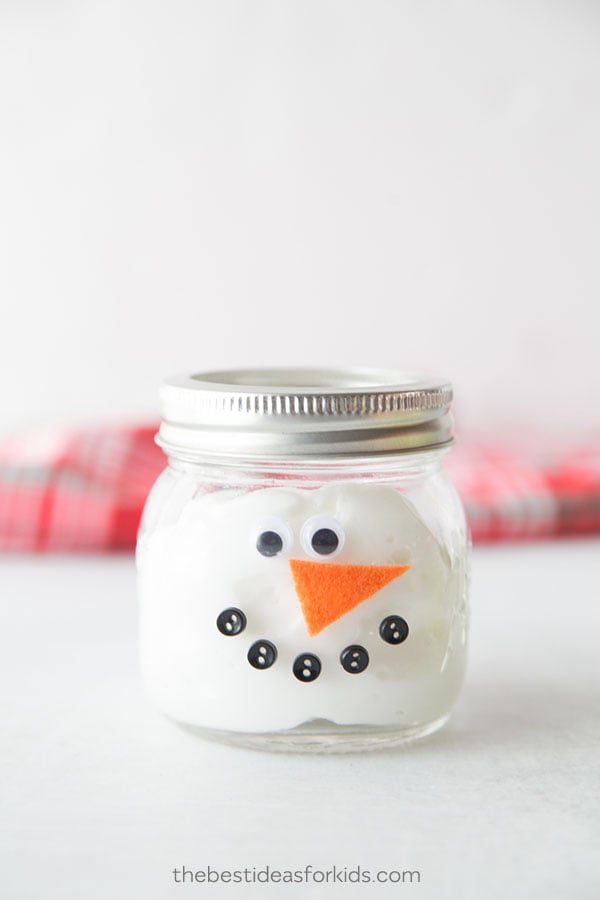 And finally, our last jar is the Grinch slime jar. He may look unhappy but we're positive you'll be happy making him!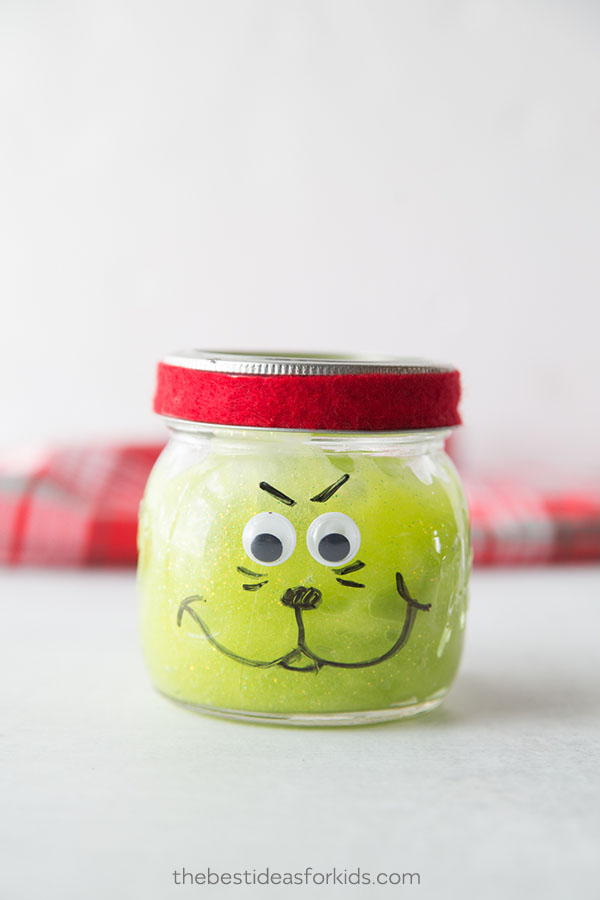 Now let's get into the details on how to make this Christmas slime!
Ingredients Needed to Make Christmas Slime
Repeat each of the below for each color (you'll need to make 1 batch each if you want to make each slime jar)
Per batch/Jar: 
1 bottle of Elmer's glue (6 oz) – we used white (2 bottles) and glitter green and repeated the recipe 3 times. Note: we made this with Elmer's glue. It is recommended you do not substitute with other glue as the make-up may not be the same and the recipe may not work (especially Dollar store glue many people report having problems using this).
Brown food coloring for the Rudolph slime jar. At this to your glue before following our slime recipe steps. *Note: the food coloring may stain, use wax paper to cover your table when playing with it and avoid contact with anything you do not want stained.
1/2 TBSP of Baking Soda
1½ TBSP of Contact lens solution. **Important: your brand of contact lens solution must have boric acid in the ingredient list. This is what interacts with the glue to form the slime.
Optional: add 1 TBSP of water to your glue before adding baking soda if you'd like a stretchier slime

Supplies for the Mason Jar Features

-Hot Glue (we advise that adults do the hot glue portion)

Now for step-by-step directions on how to make the slime, visit our Slime Tutorial Page. 

Directions to Make Your Christmas Slime Jar Faces

For the Rudolph Jar: Glue on your googly eyes and red pom pom. To make the antlers, tie one pipe cleaner around the jar lip. Cut two smaller pieces of pipe cleaner and then tie these around your two ends.
For this slime, you'll need to use brown food coloring to dye your glue brown.
Continue reading slime recipes.